April 18th, 2023 Dinner Meeting
RSVP by Friday, April 14th.
Details below RSVP Form
Location
Joseph's Grill
140 Wabasha St S,
St Paul, MN 55107
Schedule
5:30 PM           Social Hour and Silent Auction
6:15 PM            Buffet Dinner
7:15 PM            Board Elections
7:30 PM           Guest Speaker: John 'Duke' Welter
8:00 PM           Silent Auction
Presenter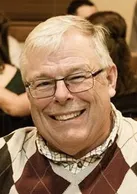 John 'Duke' Welter
Our April meeting speaker, Duke Welter, lives in Viroqua, Wisconsin, in the Heart of the Driftless Area. He'll be sharing with us the most recent developments in the project to remove the two remaining dams on the Kinnickinnic River in River Falls, Wisconsin
For 20 years Duke worked to develop restoration efforts across the 24,000-suqare mile Driftless Area of Minnesota, Wisconsin, Iowa and Illinois. He helped conceive the DARE project in 2003 and led it as a grassroots volunteer until 2010, when he came to work for TU and stayed through 2022.
As a TU volunteer since 1982, Duke has led at the local chapter, state and National Levels, chaired its National Leadership Council and served on its Board of Trustees for 8 years. TU has recognized him with its top awards for conservation leadership at all its levels.
Duke has fished the Kinni for decades and was involved in the city's discussion from 2014-18 about whether to keep the dams in place to generate a miniscule amount of electricity for the city's utilities, or remove them. The city council decided in 2019 to remove both dams, the lower (Powell Falls) by 2026 and the upper (Junction Falls) by 2046 or sooner when funding can be found.
The city in January contracted with the U.S. Army Corps of Engineers to study the feasibility of removing both dams and ecologically restoring the mile-long corridor through the downtown area.
Duke was asked to join a new nonprofit formed at the city's request to find funding and inform the public about the project. He serves the Kinni Corridor Collaborative as it's fund-raising committee chair and board member.
Buffet Dinner Menu
Buffet Dinner price is $25, payable at the door.
Campers Walleye – Kansas Rice, Dried Cranberry-Pecan Butter
Mediterranean Grilled Chicken Breast – Chablis Creme, Fettuccini Noodles
House Salad – Mixed Field Greens, Sliced Red Onion, Sliced Tomato, Choice of Dressing
Note: Due to the silent auction there will be no fly drawing.